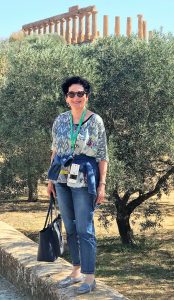 Tour Leader
Phyllis Mossman
Phyllis is a New Zealander and lives in Wellington.
She studied Art History at the University of London, UK, specialising in the Renaissance period. She was a lecturer in Renaissance art and architecture at Victoria University of Wellington from 1993-2017 and continues to give public lectures.
She also worked as an independent Art Consultant for mostly corporate clients in Wellington, coordinating art policy, acquisitions, display, cataloguing and maintenance of art collections.
Phyllis is a former President of the Friends of the Dowse Art Museum, Lower Hutt.
She is presently on the committee of the Circolo Italiano di Wellington.
She is also on the Adam Art Gallery Advisory Board and Victoria University Art Collection Funding Trust.
In 2014 Phyllis led a three week long off-the-beaten-track Art History study tour to Northern Italy for Continuing Education at Victoria University.
Reviews of Northern Italy Tour for Victoria University of Wellington, 2014
"The outstanding feature of this tour was the thought that was put into its shape, content and itinerary and the leadership given by Phyllis Mossman.  She was an outstanding tour leader, who provided clear and interesting information about the Renaissance art and stimulated all of us on the tour. She was thoughtful and inclusive, coping with people of varying backgrounds and interests."
"Phyllis Mossman set a good friendly tone for the tour. She was knowledgeable and open with a lovely touch of humour about subjects she was passionate about. There were 23 people, all of different temperaments and personalities, and she included everyone. There were no 'tour favourites' and when people had needs they were taken care of."
"I enjoyed visiting places that are not on the usual tourist trail and which I might not otherwise have seen or been aware of.  It was a wonderful opportunity to learn more about Renaissance art with an expert leader and a group of like-minded people. Phyllis was a knowledgeable and charming leader."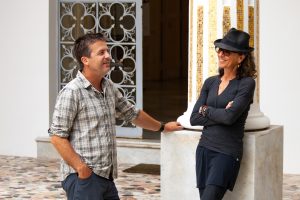 Marina Mantovani is from Ferrara, in the north of Italy. After studying Art History at Bologna University, Marina worked for ten years at Ferrara's historic opera house organising classical music events and theatre productions. Since 2000 Marina has been based in New Zealand, traveling to Italy regularly to research and lead tours for Tamarillo Active Travel, the company she owns with Anthony Norris.
Anthony Norris founded Tamarillo Active Travel in 1998 after several years working as an outdoor guide (sea-kayaking and hiking) in New Zealand. Together with Marina, Anthony has led numerous groups in Italy over the years, most of them on hiking and food tours. You can read more about Marina and Anthony's tours and activities here: Tamarillo Active Travel
During the 'Renaissance Rivalry' tour Marina's primary role will be managing the logistics - accommodation, meals, transport, guides, tickets, etc. – and ensuring each day runs smoothly. Anthony will be there to assist Marina, Phyllis and all group members as needed. He will also lead several walks during the tour for anyone wanting to stretch their legs and breathe the country air. There are some lovely trails in the Chianti valley near Siena, in the hills around Florence and in the Alpi Apuane mountains of north Tuscany.